When discussing our own wardrobe and style essentials, Coveteur staffers found their feelings could often be summed up with the phrase, "it's literally the best … white t-shirt, pair of jeans, drugstore find, etc." So, in our new series, fittingly titled Literally the Bestwe're asking industry insiders to reveal the style essentials they turn to over and over again and simply can't live without.
Edith Young understands color. Her book Color Scheme: An Irreverent History of Art and Pop Culture in Color Palettes proves this statement to be true, as does her slightly eccentric wardrobe. Despite a gravitational pull toward otherworldly prints, the connective tissue of her outfits skews neutral. Think creamy overalls, beige cardigans, and chocolate Chelsea boots, all of which are surprisingly practical choices for the chromatically obsessed.
The author, designer, writer, and artist is a champion of the cost-per-wear ratio. Young's favorite pieces retail at a midtier price point but, as she assures us, each earns the financial commitment in versatility. A nod to the capsule wardrobe, her pieces synthesize. Examples of said styling optimization you'll find below along with a list of the creative's foolproof wardrobe staples.
An admittedly difficult question, but how would you roughly describe your style? What are the outfits you're wearing on a day-to-day basis?
"More and more, I find that I'm looking for pieces that cohere and are not fussy, but have a little unexpected element, something a little out of the ordinary. My line, which is kind of a joke, is that I want my style to be 'Polo Bar meets Dylan's Candy Bar.' [That entails] the showdown between vibrant colors and more traditional preppy staples—preppy is a term I use loosely. I have also noticed that I've been dressing like a Rube Goldberg machine. If I leave my apartment, I am probably not going back for eight hours, so I pack a big bag and then ask a lot of my clothes. Yesterday, I biked 80 blocks to dinner. So my helmet was sort of jerry rigged to my bag handle. I had my scarf stuffed in my helmet to optimize space. If you push one thing, another thing happens."
Whether it's style or fit or sustainability, what are the things you look for when purchasing a piece of clothing or an accessory?
"I try to shop as little as possible. So I try to browse as little as possible, because that's the only way I know to temper desire—not looking. When I am looking, I'm often most drawn to things that have an inventive approach to print design. So, things that are pretty colorful and pretty unexpected. Then I meld that with a very good fit. You can't buy something that has a crazy pattern that doesn't fit well, because you'll never wear it."
Shop Young's Essentials
Pink Blouse
"I've known Emma [Rothkopf] for a while. We both worked our first jobs on the same block downtown and would always run into each other in that area. Now she lives in Salt Lake City and has a collection of small-batch clothing made mostly from deadstock materials. I would consider this to be my desert island blouse, which is ridiculous because one would not have to wear a blouse in the desert. It has a really exaggerated collar, an ever so slight flounce in the sleeves (but you can still wear something over it), and a tuxedo cut in the front. You don't ever want to tuck it in because that element is just so cool. I'll go through 10 things in my closet, and I'll just end up wearing that. It's fail-safe."
Emma Rothkopf
Lady Yearling Boots
"I have these RM Williams Chelsea boots, and they're like the only shoes I wear—fall, winter, and spring. They are just the perfect feeling, the perfect height. I can walk a really long distance in them. They're definitely costly, but that's been so amortized over the last five years that they're well worth it (except that I have to resolve them occasionally)."
RM Williams
The Thirty
"Heist, the tights company, they're my favorite. I mean first, the name is great. I would say they pretty much repaired my relationship with tights. They're the only brand I really trust. My favorite is a very sheer 30-denier tight, which won't last forever but lasts so much longer than any other sheer pair has for me. Those with the boots? Ideal."
Heist
Bib Overall
"I have a couple Carhartt Work in Progress overalls. I have the black, but the white ones are my favorite. They're the key for days where you do not have any idea what you want to wear and just don't have an original bone in your body. You're also dressing for a completely different shape, which ends up making you think a little bit more creatively about how to style them. I am also a sucker for any pants with a hammer loop. They check that box for all the hammers I'm carrying around New York."
Carhartt
Jacket Sandler
"The winter coat I have is by Rodebjer. It's definitely also on the pricier end of the spectrum, but it's like a cocoon and I can also Citi Bike anywhere in it at any temperature in the winter. It's enough of a statement where you could wear a shy outfit underneath it, and it would cohere nicely. Then also, if you wear the Emma Rothkopf blouse under it, you can have the big collar stick out because it doesn't have its own collar. It all has to work together."
Rodebjer
Turtleneck fabric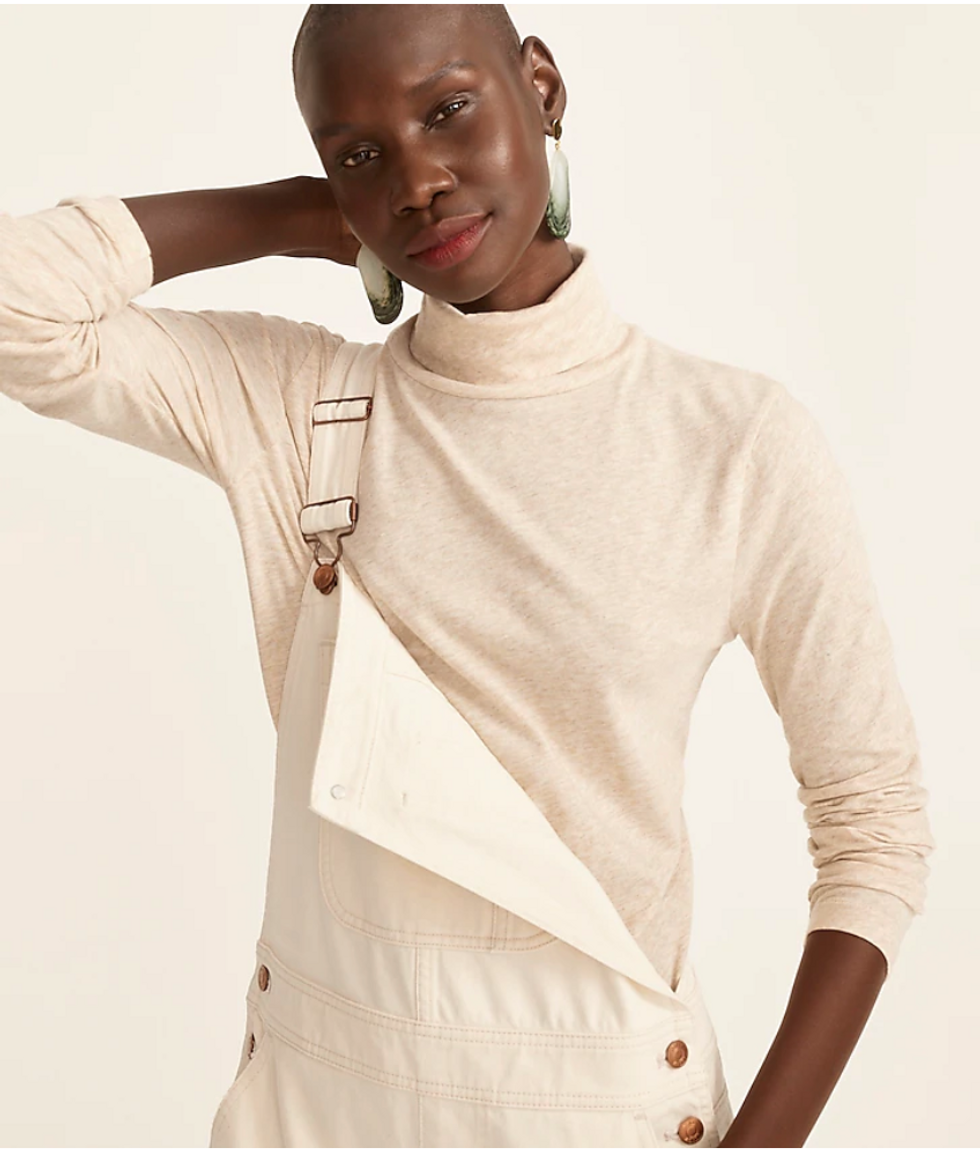 "I still gravitate towards the J.Crew tissue turtleneck. The quality can vary, but the ones that I have are super nice."
J.Crew
Quilted Bomber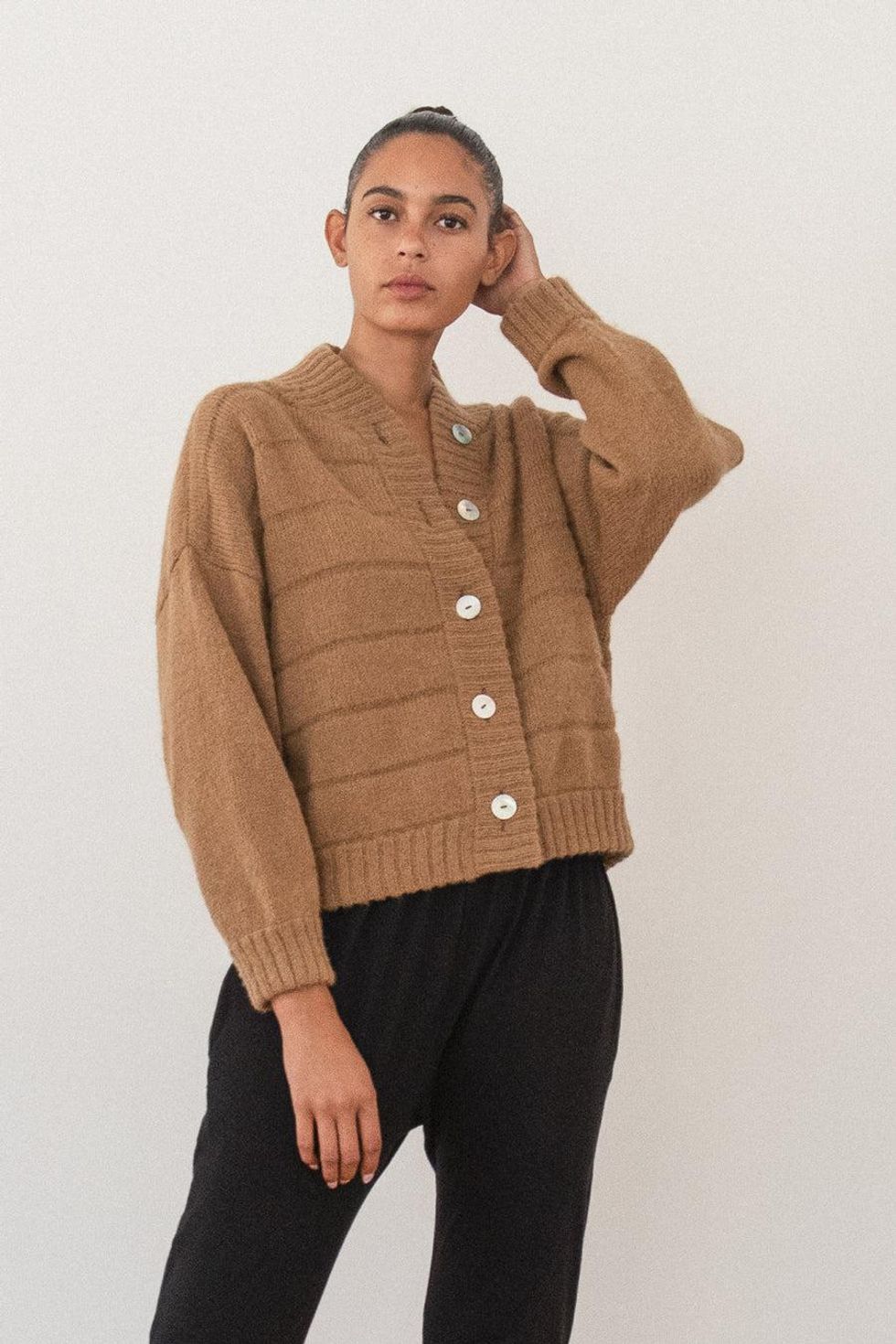 "There's a Wol Hide cardigan cut in a bomber jacket shape. I think every sweater looks like it'll be 'the one' when you look at it online. This is the rare one that I actually want to wear all the time. I wore it recently over the Carhartt overalls and tissue turtleneck to a bowling alley, and it even looked good with bowling shoes."
Wol Hide
J3 Tote Nº078
"I sell these prints of my color palettes, which requires a fair amount of art handling and schlepping. So I need a pretty substantial bag. My favorite is this one by a brand called Zurner Oceanic that's based in Newport, Rhode Island. They're wonderful and made with vintage yacht line and repurposed sales with some patina on them. They have the structure of an LL Bean tote, and I like that they're a little bit colorful, like my prints. And no one else has one in New York."
Zuner Oceanic
window.REBELMOUSE_ACTIVE_TASKS_QUEUE.push(function(){
var makeMonitor = (getStatus, cb, delay) => { delay = delay || 100; var monitor = () => { var time = +new Date(); var status = getStatus(); if (status) { return cb(status); } else { if (!stopMonitor && +new Date() - time < 30 * 60 * 1000) { monitorId = setTimeout(monitor, delay); } else { cb(false); } } }, cancel = () => { stopMonitor = true; clearInterval(monitorId); }; let monitorId, stopMonitor = false; return { start: monitor, cancel: cancel, }; };
var leftArrowCarrousel = makeMonitor( function () { return document.querySelector( ".shop-sidebar.shop-posts .posts-wrapper .slick-next" ); }, function (res) { res.addEventListener("click", () => { gtag("event", "Left Arrow Click", { event_category: "Shopping Module", event_label: "Previous product at carrousel", }); }); } );
leftArrowCarrousel.start();
var rightArrowCarrousel = makeMonitor( function () { return document.querySelector( ".shop-sidebar.shop-posts .posts-wrapper .slick-prev" ); }, function (res) { res.addEventListener("click", () => { gtag("event", "Right Arrow Click", { event_category: "Shopping Module", event_label: "Next product at carrousel", }); }); } );
rightArrowCarrousel.start();
var buyButton = makeMonitor( function () { return document.querySelectorAll( ".shop-sidebar.shop-posts .posts-wrapper .widget__product-buy-link-btn" ); }, function (res) { for (let button of res) { button.addEventListener("click", () => { gtag("event", "Buy button click", { event_category: "Shopping Module", event_label: `${button["href"]}`, }); }); } } );
buyButton.start();
var imageShopp = makeMonitor( function () { return document.querySelectorAll( ".shop-sidebar.shop-posts .posts-wrapper .widget__head a" ); }, function (res) { for (let image of res) { image.addEventListener("click", () => { gtag("event", "Image click", { event_category: "Shopping Module", event_label: `${image["href"]}`, }); }); } } );
imageShopp.start();
var productTitle = makeMonitor( function () { return document.querySelectorAll( ".shop-sidebar.shop-posts .posts-wrapper .widget__headline .widget__headline-text" ); }, function (res) { for (let product of res) { product.addEventListener("click", () => { gtag("event", "Product title click", { event_category: "Shopping Module", event_label: `${product["href"]}`, }); }); } } );
productTitle.start();
});
window.REBELMOUSE_ACTIVE_TASKS_QUEUE.push(function(){
window.REBELMOUSE_STDLIB.loadExternalScript("https://s.skimresources.com/js/150311X1615657.skimlinks.js", function() {
});
});
window.REBELMOUSE_ACTIVE_TASKS_QUEUE.push(function(){
!function(f,b,e,v,n,t,s){if(f.fbq)return;n=f.fbq=function(){n.callMethod?n.callMethod.apply(n,arguments):n.queue.push(arguments)};if(!f._fbq)f._fbq=n;n.push=n;n.loaded=!0;n.version='2.0';n.queue=[];t=b.createElement(e);t.async=!0;t.src=v;s=b.getElementsByTagName(e)[0];s.parentNode.insertBefore(t,s)}(window, document,'script','https://connect.facebook.net/en_US/fbevents.js');fbq('init', '1248680838922690');fbq('track', 'PageView');
});
window.REBELMOUSE_ACTIVE_TASKS_QUEUE.push(function(){
window.REBELMOUSE_STDLIB.onElementInViewport({ threshold: 400, selector: "video", oneTime: true, onIntersect: function(entry){ var element = entry.target; element.setAttribute("allow","autoplay"); element.loop = true; element.muted = true; element.autoplay = true; element.setAttribute("playsinline","true"); //element.controls = false; element.play(); } });
});